When it comes to exploring all the available flooring options, porcelain floor tiles are without a doubt the preferable option. Porcelain tiles also outperform ceramic tiles and nearly all other flooring alternatives in all categories.
Porcelain tiles have denser and thicker bodies than ceramic tiles, and they are far less porous. Not all porcelain tiles, however, are created equal. When it comes to porcelain tile flooring or wall solutions, you have a few alternatives, including unglazed porcelain and glazed porcelain. There are significant variations between glazed and unglazed porcelain, which we have mentioned here to help you make your decision.

Manufacturing of Porcelain Tiles
Porcelain tile, both glazed and unglazed, is formed by compressing and tightly burning clay, silica, and other naturally derived ingredients at extremely high temperatures within a specially designed kiln. Because of the intense density and heat, vitrification occurs, which is why porcelain is very resistant to water and other impurities.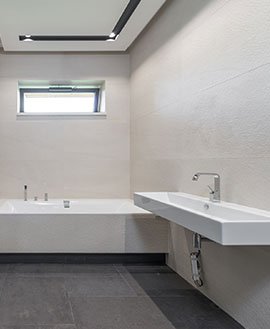 Glazed tiles are manufactured in a separate manner from porcelain tiles. Glazed tiles have an extra coating of liquid glass placed on the surface of the porcelain tile that is between 5-7 microns thick.
The fundamental distinction between glazed and unglazed tiles is made during the firing process. Natural clays and colors are used to make both types of tiles, which are then burned to solidify them. This is the end of the process for unglazed tiles, which have a more natural, rustic appearance with a rough and matte surface.
Glazed tiles are fired a second time, this time with a protective covering of liquid glass on top. This protective layer makes the tiles slightly slippery, but it also enables for inkjet printing of a broad range of designs and colors.
Modern tile patterns feature exact copies of anything from Carrara marble to old wood planks, all at a fraction of the price.
How can you determine which type of porcelain tile is best for your house now that you understand the distinction between glazed and unglazed porcelain tile? The solution may be obtained by considering how you would use the area.
Look of Unglazed Porcelain Tiles
Unglazed porcelain tile has an unfinished appearance. Unglazed porcelain tiles with a bare surface are more slip-resistant. The color of unglazed porcelain tiles, also known as totally vitrified tiles, runs through the whole body of the tile. This implies that chips in the tile will be barely evident because the biscuit or body is the same color as the tile's surface.
Unglazed tiles are great for damp regions and outdoor applications due to their rough feel, which provides added grip and traction. Unglazed porcelain tile is also ideal for high-traffic areas, such as tile flooring in a laundry room. This is due to its matte surface and rich makeup, which resists scratching and wear.
Which one should you choose – glazed or unglazed?
To begin with, unglazed porcelain tile is extremely unusual and typically more expensive than glazed porcelain due to the increased density and coloration used in the production process. Unglazed porcelain, on the other hand, will last longer.
The application will dictate whether glazed or unglazed is used. Unglazed porcelain is suitable for most commercial applications with high or heavy foot traffic. However, both varieties are ideal for all uses, and glazed porcelain tile is frequently the more popular choice due to its availability, variety of designs, and lower price range.